This Arp Axxe Vintage Analog Synthesizer came in working, but needed major restoration. Customer also wanted to have a MIDI installed.
All faders, switches and jacks were dirty, scratchy and far away from moving smooth. I desoldered a few slider potentiometer to see, if it could be cleaned successfully and whats the overall condition of the sliders.
They all looked really, really dirty. I opened some and inside they didn´t looked any better.
After cleaning they really looked much better.
I measured the resistance of the desoldered sliders and some were way off. And even with lubrication one they were still not really moving smooth. I discussed that with my customer and we decided to replace all the sliders with new ones. We also decided to do the illumiated version. I ordered all the stuff from a well know, reliable tech collegue. https://www.gmusynth.com
Since I ordered these as a kit and they are not a drop in replacement I had to do some solder work. Which is easy but it took some time.
They fit and look very nice in place.
Now I had to do the LEDs wiring. We decided to have different colors. Different colours have different voltages, different brightness. So I grouped the LEDs and started wiring…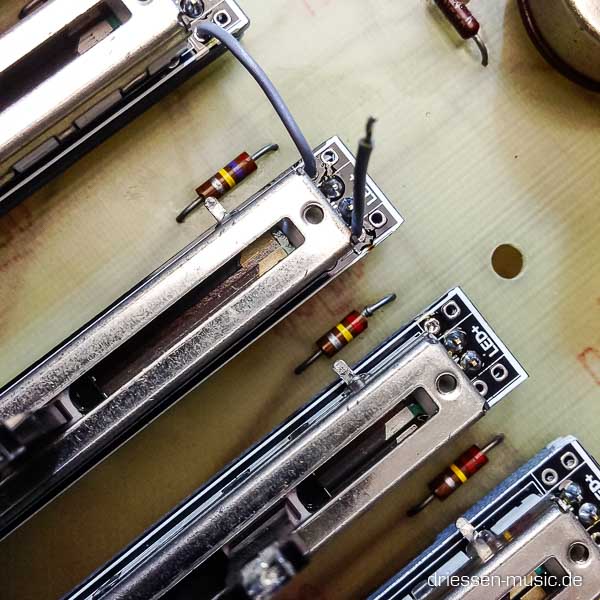 The first testing looked amazing and was worth the affort.
Since I had to group them they needed a group reglutation, so that I could adjust and equal the brightness of the different LEDs (colors). I started to do some breadboarding…
I implemented this to the left …
And I implemented a buffer circuit for the LFO slider led (right side).
Now it was time for the MIDI. We know, that the synth has CV/GATE input. But my client loves easy workflow and not dealing with control voltages, cables and such. He found an old MIDI interface from the 90's he had laying around. But this had some leakage problems which had to be addressed first.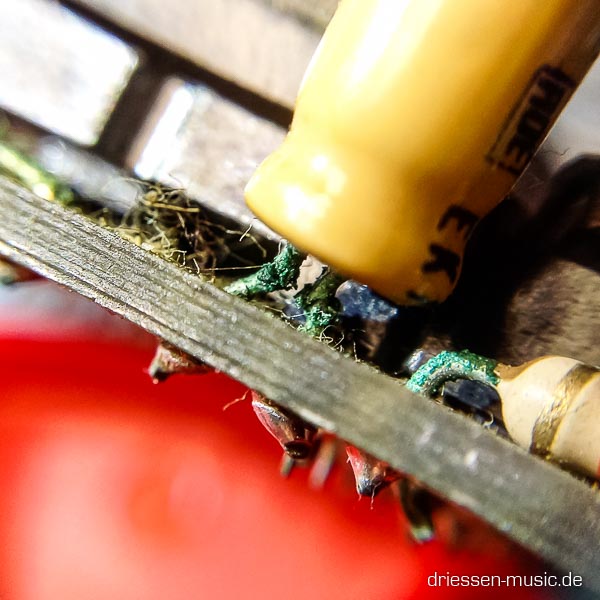 I also cleaned all switches (like in any other of my restorations)… before …
and after …
I also cleaned the keyboard, means every single key…
replaced the Pratt-Read keybed key bushings.
They were worn out and needed to replaced with new ones.
I also cleaned the key contacs and the contact bus bar…after (top) and before (below)…
Caution:
There are lethal voltage exposed in electronic devices. Unless you know what you are doing, don't try this. If you following along, you doing so at your own risk.
I'm documenting repairs for my reference and yours.
I do synth restorations and repair with a specialty in vintage synthesizers, drum machines and other vintage gear, based in Düsseldorf, GER. Get in touch about your synth situation!