Another Roland JP-8000 Synthesizer on my bench today that has a weak output. Looks like this is a common problem.
If you want me to fix this for you, but you don't want to send in your whole synthesizer, I created this tutorial for you. It's maybe also useful for other techs who wants to repair it themselves.
1. Unplug your synthesizer from mains !!! Remove all other cables like audio and/or MIDI.
2. Flip over the JP-8000, so you have access to the black buttom panel. Be careful to lay something under the bender to support it and not to damage or break it.
3. The loosen all the black screws. I recommend an electric screwdriver here 😉
Once you lift up the black panel you can spot the mother board under the metal shielding. It looks like this:
Next I suggest you loosen all cables. Starting from left to right with the big black on on the left. STOP! You cannot just "pull it out". First you have to unlatch the cable from the plug. Grab it with your fingernails left and right or use a screwdriver and carefully lift the white frame up like so…
Now the cable is loose and you can carefully pull it out.
5. Now pull the two ribbon cables. Gently pull them…
and put them out of the way like so
6. Next one. FIRST lift up the white connector frame…
THEN pull the cable
If you have trouble lifting the frame, then you start can unscrew the shielding like so…
7. When all cables are loose start to unscrew the shielding.
8. Once you have unscrewed the shielding you can remove it. You now should see the "motherboard".
STOP! Don´t touch it. You might be charged with a static voltage that can damage the components. If you just want to change the battery, you can do that now. Don´t forget to back up your memory first 🙂
9. Now you can start to unscrew the "motherboard".
10. If you have a Anti-Static Wrist Strap Grounding, you can remove the board now. If you don´t have such, try to ground yourself first. You can store the board into an anti static bag which I can send you, if you want me to repair your board.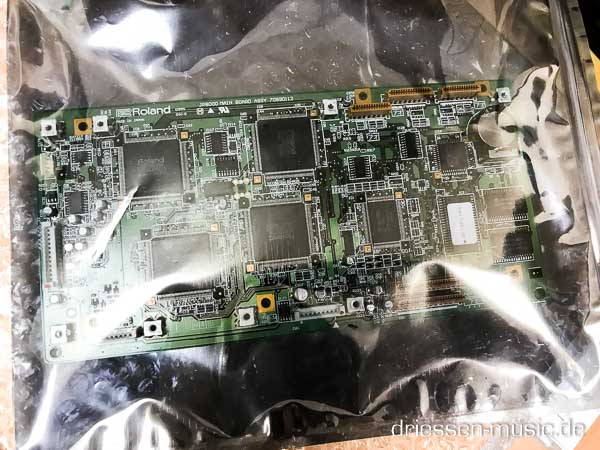 11. You can now send this in. I would be happy to do this for you.
Caution:
There are lethal voltage exposed in electronic devices. Unless you know what you are doing, don't try this. If you following along, you doing so at your own risk.
I'm documenting repairs for my reference and yours.
I do synth restorations and repair with a specialty in vintage synthesizers, drum machines and other vintage gear, based in Düsseldorf, GER. Get in touch about your synth situation now!