My documentation of a Repair of a Roland RS-505 Paraphonic Vintage Analog Synthesizer. Some keys of the keyboard were not working properly. The switches on the left side were dirty and caused tuning/pitch shift issues. After taking a look inside I quickly noticed, that this synth needed a re-cap.
Shame. The electrolytic substance of the electrolytic capacitors had already damaged one circuit board. You couldn't see this since it was on the copper (buttom) side of such board.
Since this substance is quite agressive and will still damage the board I had to remove this substance. I mostly do this with IPA. Sometime I use other chemicals to neutralize the electrolyte. I then sanded down the area to the bare copper to see, how much damage was done to the board.
Fortunately there was no major damage done to this board. Nothing to fix. The only thing to do here is to protect the surface against corrosion. I used a green UV Curable Solder Mask.
After re-capping the whole synth I cleaned the keyboard contacts. There was quite some oxidation on the contacts…
…which I carefully removed. Now these are nice and shiny like new.
I cleaned all the contacts, switches and potentiometer. I also re-alligned some of the contacts inside the sliders.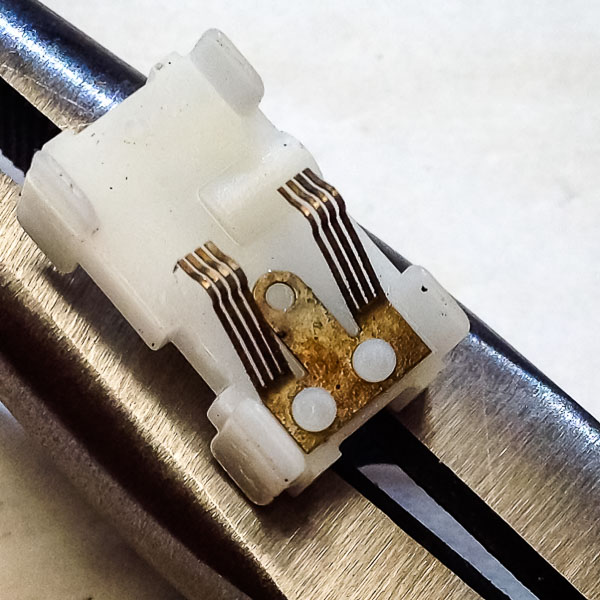 The synth got now handmade dustcovers, since the old ones were brittle and "raining" into the sliders.
Last but no least I corrected some bending on some levers.
Remember, it's always a good idea to protect yourself. I wear gloves when working with substances like lead or chemicals!
And also don´t forget:

There are lethal voltage exposed in electronic devices. Unless you know what you are doing, don't try this. If you following along, you doing so at your own risk. Bring it to a qualified tech. Bring it to me.
I'm documenting repairs for my reference and yours.
I do synth restorations and repair with a specialty in vintage synthesizers, drum machines and other vintage gear, based in Düsseldorf, GER. Get in touch about your synth situation!