Repair (Reparatur) of a Roland SH-101 vintage analog synthesizer. This one came in with some issues but also as a full restoration project. Customer also wanted to add the SH-1oh1 Tubbutec MIDI. All potentiometer, switches were dirty and sound scratchy or jumped in value. Bender/Modulation had no function. Well, that was no big surprise as it was hit hard at some time as you can see in the picture below.
I could bend it back into "normal" postiontion by carefully applying some heat.
The issue with the non working bender was found and repaired very quick. That was just a loose (red) wire, maybe from hitting it too hard. The other issue (modulation) was a dirty and misalligned switch.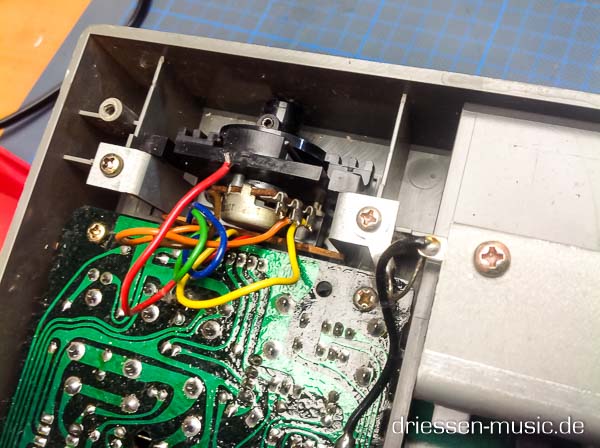 I did some audio testings to verify that I really needed to clean everything. So I started my usual restoration process.

1. Taking everything apart
2. Cleaned all the potentiometers (desoldering, open, ipa, close, test, soldering)
3. Cleaned all the switches including the rotary (desoldering, open, ipa, close, test, soldering)
4. Cleaned the keyboard
It´s not only done by washing the keys. Rather it's a refurbishing process of the contact-strips. In this first picture you can see a worn out contact…
And in the next picture you can see it refurbished.
Caution:
There are lethal voltage exposed in electronic devices. Unless you know what you are doing, don't try this. If you following along, you doing so at your own risk.
I'm documenting repairs for my reference and yours.
I do synth restorations and repair with a specialty in vintage synthesizers, drum machines and other vintage gear, based in Düsseldorf, GER. Get in touch about your synth situation now!