Customer wanted to add MIDI to this Roland Jupiter 4 analog synthesizer. While opening up this lovely synth I immediately spotted this purple electrolytic caps. I told my customer, that these have to go, cause they intend to leak and damage the synthesizer. To make sure, I desoldered and/or measured every single one of these. And like I said, these all have to go.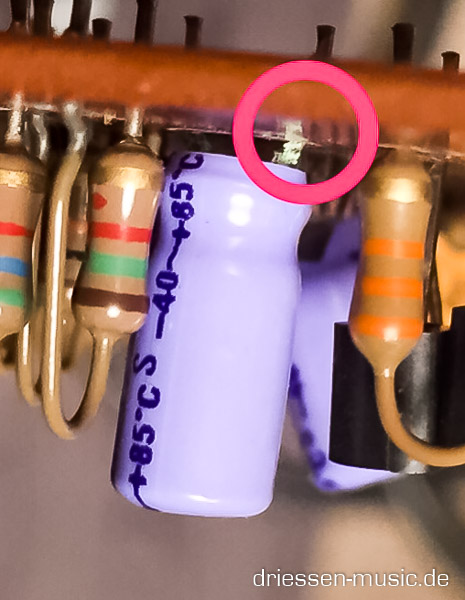 While recapping I also examine and measure every single new component I use as replacement (you never know..!). It was new to me, that even a new panasonic capacitor started to show leakage.
Next thing I spotted immediately was the leaky battery, which I replaced with a CR2032.
Here`s a picture from underneath. Don´t forget to remove the parts from the charging circuit !
I also cleaned keyboard, keyboard contacts, switches, potentiometer, sliders, pcb, case…
I installed the MIDI kit by CHD ELEKTROSERVIS. The MIDI jack was installed behind one of these manufacturer plates. Unfortunately I have no pictures for you.
Calibration was also performed on this beauty.
Caution:
There are lethal voltage exposed in electronic devices. Unless you know what you are doing, don't try this. If you following along, you doing so at your own risk.
I'm documenting repairs for my reference and yours.
I do synth restorations and repair with a specialty in vintage synthesizers, drum machines and other vintage gear, based in Düsseldorf, GER. Get in touch about your synth situation!