This ROLAND Promars Compuphonic MRS-2 came in with some issues.
A leaky battery !!!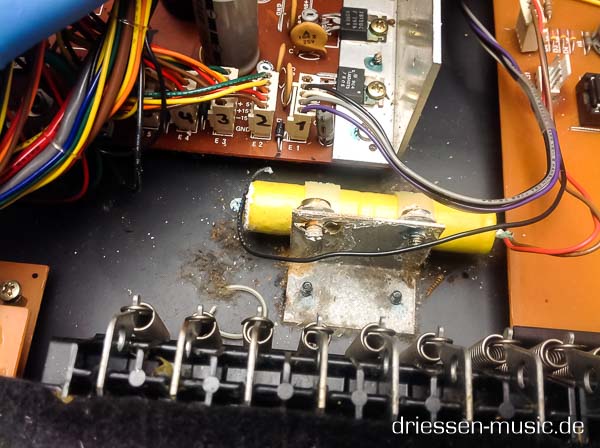 I removed corrosion from the chassis, the pcbs and from some components.
I fixed damaged traces with a solid wire and some green PCB UV Curable Solder Mask. I replaced the old battery with a standard CR2032 battery incl. holder.
Another issue was, that the OSC1 could not be switched off. The culprit was a faulty 4016 Quad Analog Switch (Multiplexer).
A "minor issue" in functionality but never the less important was a missing zener diode in the psu, which works as a overovoltage protection circuit.
Please, don´t do this!
I replaced some more more components due to the battery leak and I also re-capped the synthesizer. Most of the caps were these purple/blue matsushita electrolytic capacitors, which do leak and if if not, they intent to leak agressively and will damage your synthesizer.
Last but not least I replaced one switch with a NOS one. Thanks to Rob, who also runs a great synthesizer schematics site under http://synfo.nl
Of course I did a lot of additional cleaning, calibration, testing. Synth works great and will make customer very happy 😉
Caution:
There are lethal voltage exposed in electronic devices. Unless you know what you are doing, don't try this. If you following along, you doing so at your own risk. Let me do this kind of stuff for you.
I'm documenting repairs for my reference and yours.
I do synth restorations and repair with a specialty in vintage synthesizers, drum machines and other vintage gear, based in Düsseldorf, GER. Get in touch about your synth situation!